Tennis, Yoga & leisure
15 June - 22 June I 25 August - 1 September I 14 September - 21 September
2019
Villa Gloria and Mediterranean Village San Antonio Holiday Park
As many dedicated players know, tennis is tough on the body. The game requires strength, flexibility and mental concentration. Many tennis players, from the amateurs to the pros, have discovered that the combination of yoga and tennis makes for a win-win situation. Tennis is also a game of strategy, being calm, centered and focused, are vital for success in a match. The focus on breathing and the mind-body connection in yoga helps athletes develop mental acuity and focus. When you practice yoga regularly, you bring energy into the body which can help players feel better instead of depleted after a match.
Biograd, Zadar Region, Croatia I Porec, Istra Region, Croatia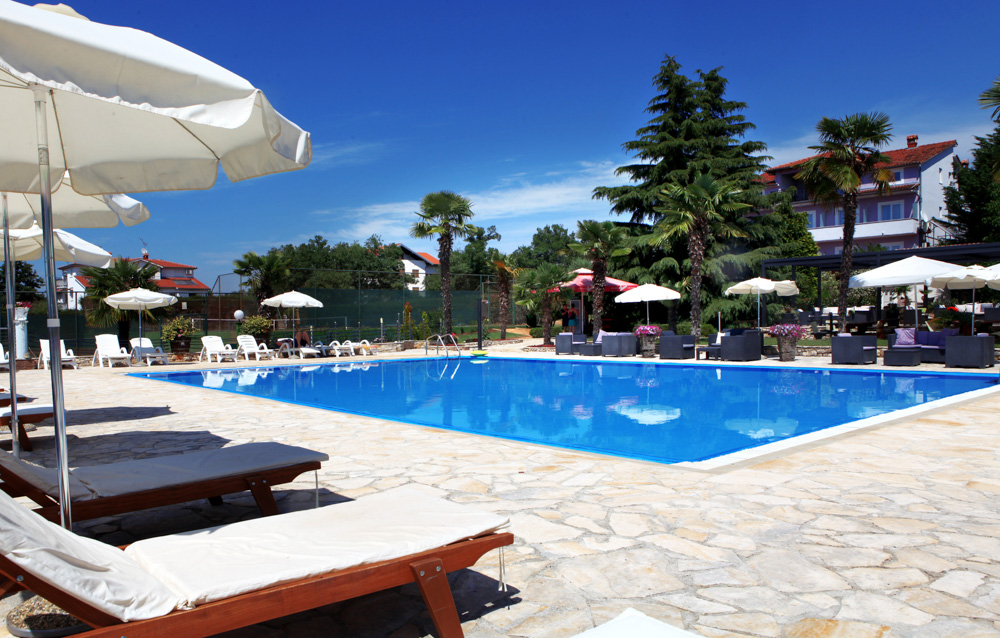 YOU WILL LIKE
situated in the beautiful green belt of Poreč and only 3 kilometers away from the center

Friendly, warm and lovely atmosphere at the hotel

restaurants

outdoor pool

4 tennis courts equipped with the nighttime illumination
I AM
tennis player

interested in having a tennis retreat with other people of similar standard

loving yoga
I WILL
play a lot of exceptional tennis

get coaching from experienced and friendly coaches

stay at cozy hotel right by the sea

hang out in wonderful surroundings

enjoy many relaxing activities in the area

over 20 different bike routes
ABOUT VILLA GLORIA
If you are looking for activity, remarkable experiences and rich cultural heritage, Poreč with its 100 years of experience in hospitality and supreme tourist offer, is the place for you. The hotel is surrounded by 10.000 m2 green area which is an unique oasis of peace, tranquility and beauty in the untouched nature. The Hotel consist of 16 recently renewed rooms, two typical restaurants, one in the inner part of the Hotel and one in the green area near the pool, a bar, a rustical taverna, a swimming pool, 4 first-class ATP standard tennis courts and a wonderful green area with mediterranean plants.
Mediterranean Village San Antonio Holiday Park
ABOUT VILLAGE
San Antonio Biograd Mediterranean Village covers an area of over 17.000 m² and offers perfect holiday in bright rooms located within stone bungalows surrounded by a century old pine trees. The village includes restaurant serving delicious Croatian and international dishes made out of fresh meat, fish and locally grown organic products. Guests staying at San Antonio can indulge in the crystal like dazzling waters of the hotel swimming pool whilst enjoying the gentle sea breeze and savoring refreshing drinks from our adorable pool bar.
YOU WILL LIKE:
Restaurant San Antonio

Pool bar and outdoor pool

quite and beutiful place

friendly and helpful suff
Training sessions are adapted to your skill level – from an absolute beginner to an advanced player
Our experienced tennis coaches are here for you – always ready to deliver great sessions
Tennis courts are situated right by the sea, within an easy walking distance from your hotel and the beach
HALF PROGRAMME
Enjoy 10 hours of tennis training allowing more time for relaxation and trips. Ideal for a long weekend stay or a short break.
10 hour tennis programme
2 X group training sessions (180 min)

1 X private coaching session (60 min)

3 hours of tournament evening

EXTRA - 2 hours use of tennis courts out of tennis coaching hours.
DATES
15 June - 22 June
San Antonio Village
931 GBP pp, sharing room
25 August - 1 September
Vila Gloria
1.192 GBP pp, sharing room
14 September - 21 September
San Antonio Village
823 GBP pp , sharing room



WHAT'S INCLUDED:
accommodation, sharing room, HB

Half tennis programme (10hrs)

returned airport transfer

yoga programme (aqua aerobic,sunset yoga, power yoga)

aqua aerobic - 9am

tennis - 10:30 am

evening with yoga sunset & power yoga

1x yoga sunrise


TENNIS +
Balance your tennis hours, add extra activities,
choose from a range of magnificent options.