With its breathtaking coastline, Croatia simply lures you into sailing. And the region of Zadar undoubtedly has one of the most remarkable sites to navigate.
Imagine a horizon of islands, a flat and translucent water, a wind established between 12 and 20 knots every day, landscapes still virgin, a cut rocky coast in which one sneaks like in a labyrinth.
The highlights of the sailing school
Navigation in a very dense archipelagoe - the horizon is barred by the islands. Whatever the direction, you will navigate a labyrinth: fun, beautiful and safe.

Professionalism - a long-standing experience for quality education

Wind Statistics ideal for sailing - every day , the wind rises quietly and then blows 12 to 20 knots.

Safety of the water - the natural water protected by the islands, offer easy and safe navigation.

High quality material - a perfectly maintained and renewed material
Types of boats
This legendary little boat is for young people from 6 to 12 years old. It makes it possible to start the sail, to apprehend the sea, to sail alone and to become autonomous
With the current floats, windsurfing has become easily accessible. We have fun very quickly and we can start 10 years
Cool and fun, a machine full of sensation and adrenaline. To consume at the age of 12 years
Learn to sail a small boat very responsive but stable anyway, the Open 570 is the ideal boat to learn alone or family the basics of the monohull. Navigation with the wind, maneuvers, spinnaker, there is work. To your sailors.
With the Sit on Top, just sit in the boat and hop off to have fun and navigate near the base and discover the small surrounding islands. Alone, two or three, for a nice little budget.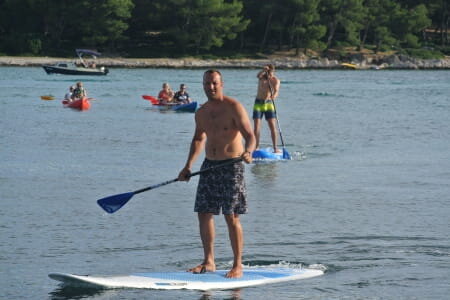 In the morning preferably when the sea is flat (Bonaca in Croatian), slip to the discovery of the small surrounding islands. A good sport for balance, and that makes the muscles work well.
EQUIPMENT FOR NAVIGATION
Sunglasses

Cap

Solar cream

Short pan

Licra

Wind breaker

Gloves

Watershoes
DATES
Every day from april to end of october
PRICES OF SAILING SCHOOL
OPTIMIST - 6 to 12 years
WINDSURF - From 11 years
1 PERSON
1 hour = 25 €
3 hours= 50 €
5 hours= 100 €
2 PERSONS
1 hours =35€
3 hours=90 €
5 hours= 150 €
CATAMARAN
From 12 years old
1 PERSON
1 hour = 30 €
3 lessons x 2 hrs = 100 €
5 lessons x 2 hrs = 170 €
2 PERSONS
1 hour = 45 €
3 lessons x 2 hrs = 150 €
5 lessons x 2 hrs = 225 €
MINI CRUISER (5 persons)
1 hour = 30 €
3 lessons x 2 hrs = 100€
5 lessons x 2 hrs = 170 €
Day trip with skipper= 130€