If you would like to experience the many islands of the Biograd archipelago, or simply enjoy the boat drive and beautiful sceneries of the coast, you can rent a boat for one day, or even a whole week.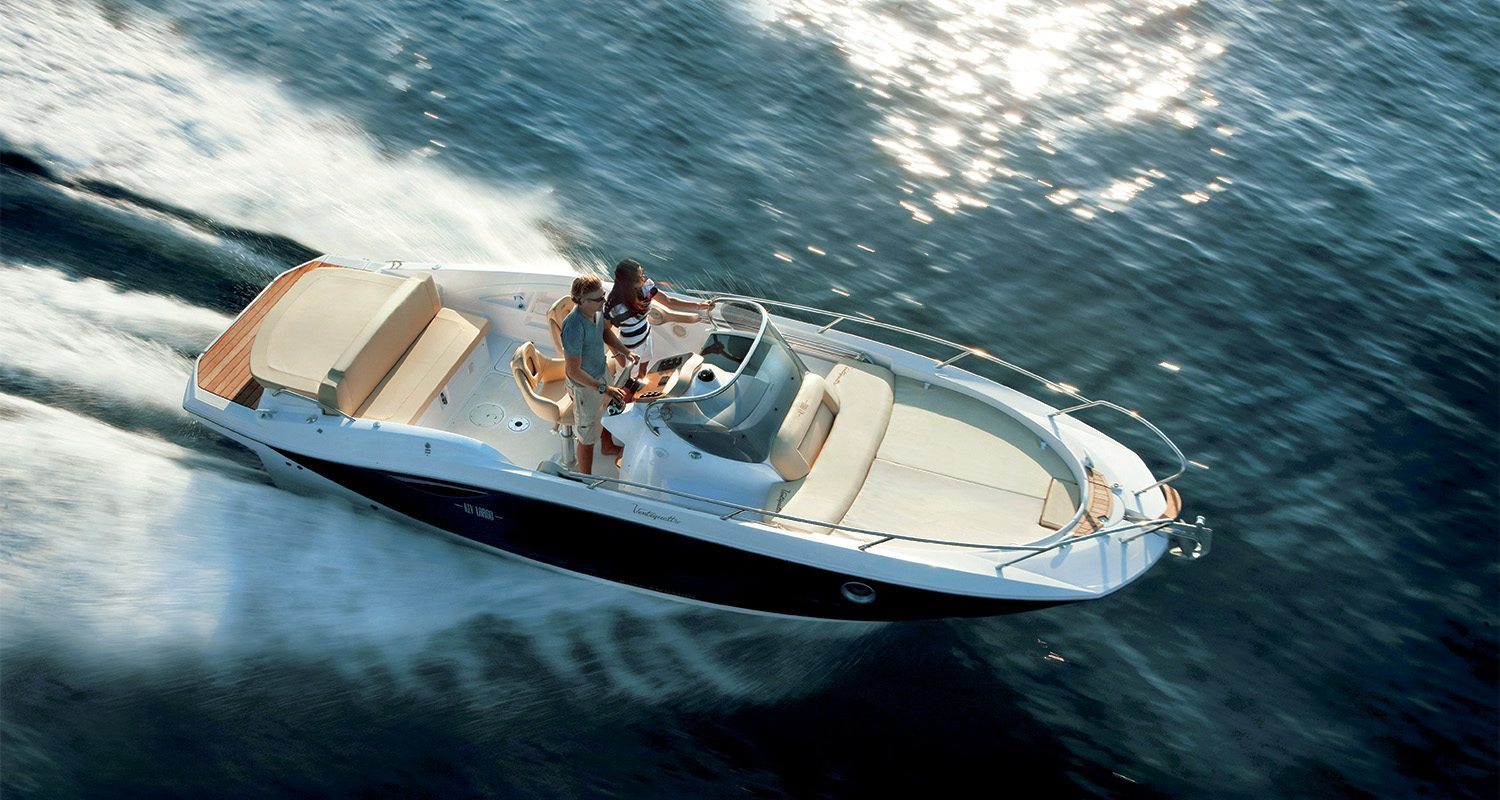 Choose one of the luxury inflatable boats from recognized international manufacturers - ZAR 53 Flipper Sport Boat, bring along your crew and you are all set for a unique experience!
Highlights
Take your family or friends on a unique tour - Croatian coast is best explored on a boat

Rent a boat for one day or the whole week and explore the islands, sea and well-hidden beaches

Invite a skipper on board if you don't have a licence to drive

Create your own itinerary – make stops when and where you like most

Everyone's welcome – adults, kids, pets
About the boats
ZAR is a reliable, easy to use at sea, extremely comfortable and built to the highest standards. You will experience the pleasure of controlling a vessel of unrivalled sophistication.
BAT boats are famous for its quality and sporty look, designed for guests interested in speed and adventure.
All the boats are in impeccable condition, are regularly serviced and maintained ensuring a reliable and safe stay at sea.
Duration
Day rental – 9 hours (9.00 am – 18.00 am)
Price range of the boats
From: 128 GBP - 707 GBP per day
Licence & Skipper
You need a boat driver licence to drive a powered vessel for recreational purposes.
If you don't have a licence, you can request a skipper as a crew on board (subject to additional charges)
Security deposit
Payable upon arrival (refundable after check-out)
Departure point
Biograd port53
Accessories: Radio Fusion + iPOD deck, WiFi
Navigation: GPS + plotter (Garmin), Fishfinder (Garmin), Compass, Sea charts
Deck equipment: Bimini-top, Bathing ladder, Swim platform, Deck shower
Technical equipment: Bilge pump electr., Spare anchor, Battery charger, Trim indicator, El. Trim, Build in tank
Safety: Life jackets, Pocket lamps, Signal flares, First aid kit, Grapnel
EXTRAS:
Towable tube
1 Day: 9£
Set foot on the almighty Hotseat, one of the fastest and strongest towables. This thing's on fire!
Wakeboard-Obrien
1 Day: 18£
This is the perfect intermediate board when riding behind the boat, with a playful feel to it. But the blue series has a smoother pop of the wake then its Red Series brother. This package comes with the additional handle and bag so you are ready to spend a day behind the boat.
Waterslade-Chaser 2P
1 Day: 18£
Chase your passion, not your pension! The nylon cover offers extra inner tube protection and makes it one durable towable!
Wakwboard-dually
1 Day: 18£
Designed for the rider who is focused on free-riding, or taking it to the next level, the Vanity features a continuous rocker and a more conventional shape than the other boards .in our lineup
Kids waterski – JOBE
1 Day: 18£
The ultimate way for kids to get into skiing! Use the accessory Trainers' two-handled towrope and detachable stabilising bar to have an easy and safe start.
Water skis – Jobe
1 Day: 18£
These injection moulded skis with foam lined adjustable bindings are supremely versatile and can be used as either combo skis or entry level slalom skis. Its tunnel bottom and wider tip profile make for a superb entry level combo.
SUP – Stand up Paddeling
1 Day: 44£
The SUP comes in a package, complete with a nylon bag, aluminium paddle and pump in matching colours. The board has a non-detachable thruster fin system. Our beauty loves to discover lakes, rivers and urban waters.
Mono skis-Connelly
1 Day: 18£
Making use of an edge-to-edge concave this traditional slalom ski generates a true edge holding capability without reducing control. The Connelly is designed for carving and intermediate level slalom skiing.
Portable Cooler Box
1 Day: 4£
Blue and white portable refrigerator for a boat + extra cubes for cooling.
Alegre combo skis Jobe
1 Day: 18£
The Allegre combo skis are the perfect blend of strength and control for both combo as entry-level slalom skiing. Making use of our adjustable horse shoe bindings and tunnelled bottom this ski guarantees unlimited fun every session.